Oh dear… Yes this thing happened and it was more stressful than I had expected.
I have been on Instagram for years now and I always really love it to share my cosplay progress, finished photoshoot photos and my new patterns and tutorials over there with my followers.
And even though I heard about other creators getting their accounts suspended or blatantly deleted, it never occured to me that this would be something that could happen to me too.
Me, who always just posts crafting work and very tame content. Nothing that would anger the allmighty algorithm right?
And then it happened… Suddenly I got a notification from Instagram, telling me that I couldn't use the app for a certain time because I had done 'wrong actions'. I then obviously stressed out. What did I do wrong?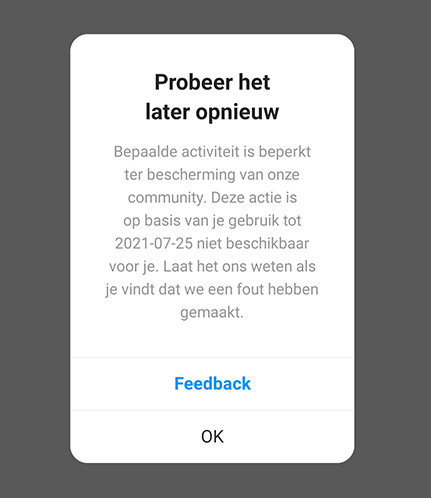 That was pretty scary!
I couldn't send messages to my followers anymore. I couldn't post pictures, couldn't post videos. I couldn't even SEE my very own profile. Everything was just gone. The only thing I could still do was post to my stories. But I wasn't able to get replies to those so I had no idea if people were even able to see them. In my head, my profile was just completely wiped off of the internet.
And with
no
reason…
Yep they didn't even tell me what I did wrong in their eyes.
Right now, I got my account back. And the ban 'only' lasted for 24 hours. But those were some stressful 24 hours, because I was SO AFRAID that I would loose you guys! That I would loose contact with my (nearly 80K!!) followers. Just in one snap of Instagram's allmighty fingers.
This didn't happen just once… Sadly.
The first time that this happened was on the 14th of July. I was so happy that the ban was lifted and tried to not use 'forbidden words'. But then on the 24th of July it happened again. Again, with no reason.
I'm actually at the point where I'm starting to believe that perhaps this happens because random internet trolls report my account? I can't see why they would do that, but to be honest, everything is possible.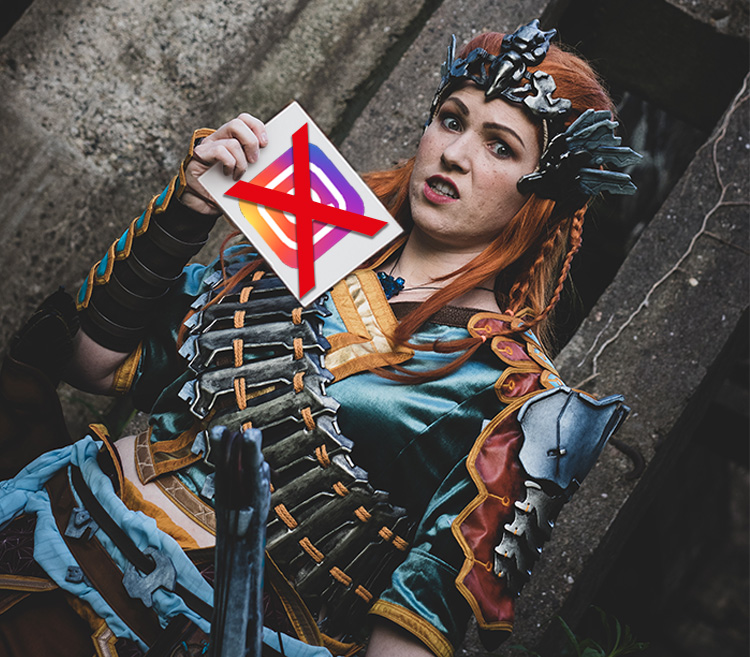 Don't put all your eggs in one basket
This situation made me realize even more how important it is to not have all your eggs in one basket. Because if that basket is taken away from you, completely out of your control, all of your eggs will fall on the floor and shatter. 
So that makes it even more important for me to keep plugging my email list more and more. Because no social media platform can take that away from me. I can still contact all the lovely people on the Pretzl Mail List about the cosplay things that I'm creating and about the patterns and tutorials that I'm making.
So I want to thank you so much for being on my e-mail list! Or, if you aren't already, for perhaps considering to sign up to it. Really, you have no idea how much I appreciate that!
Thanks so much for reading this blog post! And I hope you will stay around here. Maybe even as subscriber to my (FREE) E-mail list 😉
So even if Instagram should kick me out completely one day, I can still talk with you about cosplay.
Sign up for FREE to the Pretzl Mail List
It's greatly appreciated if you sign up for my E-mail list 😀 This makes it possible for me to stay in contact with you, even if my social media profiles would be wiped off of the face of the earth some day. As long as we still have E-mails, I can share my work with you 🙂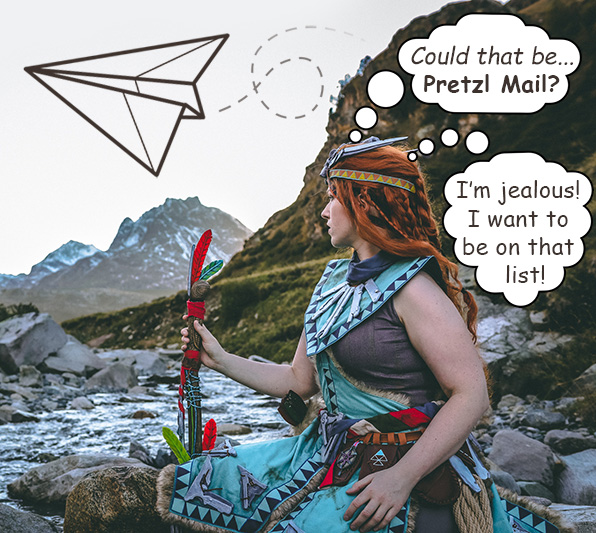 I may have an idea why the bans happened…
I think I may know why the first ban happened, but I'm not completely sure. I recently made a profile on Only Fans and I wrote about that in my stories on Instagram and also shared the link to it. I just want to use it as an extra social media platform, to share my cosplay work. So it's fully SFW and family friendly. But Instagram kinda hates the platform and doesn't check what exactly you upload there… Many followers sent me DM's then telling me that they thought that that could have been triggered the algorithm to ban me. So I believe that could have been the reason for my account being suspended the first time…
However, this doesn't fully explain why the second ban happened. I did have the word 'Only Fans' in my Link in bio, but I didn't mention it nor link directly to it anymore since the first ban happened. I now removed the words from my Link in bio, just to be extra sure… But I guess we will never know what was the reason for Instagram to ban me.
I also read about that Instagram can flag you as a bot when you comment on or like posts A LOT in one hour. But I never do so many actions in just one hour so I doubt that it was the reason for my bans…
I guess I should stop speculating and just go on with posting about the things that I love, and that's cosplay and crafting!
And let's hope it won't happen again…