Looking for something handmade but can't find the perfect item in my shop? I love to do custom orders!
So you browsed through my handmade 'Pretzl Collection' and love my style but can't quite find the perfect item that you are looking for? Well, you have come to the right place because I also love to make custom items!
If you want to inquire about a custom order, then please send me an email via info@pretzl.nl . I will then get back to you as soon as I can! 
If you write your email, please make sure to include the following information:
Do you have your own design (maybe a fursona, or a character design) or maybe you want me to base the custom item on a character? Show me the design or character so I can form an idea of the commission.
What is you deadline for the commision? When do you need to have the product at home?
Where do you live? (to determine shipping costs AND estimate time)
What is your budget for the commission? Please consider that custom work is quite expensive because I need to make a new pattern too.
And more details if you can think of them.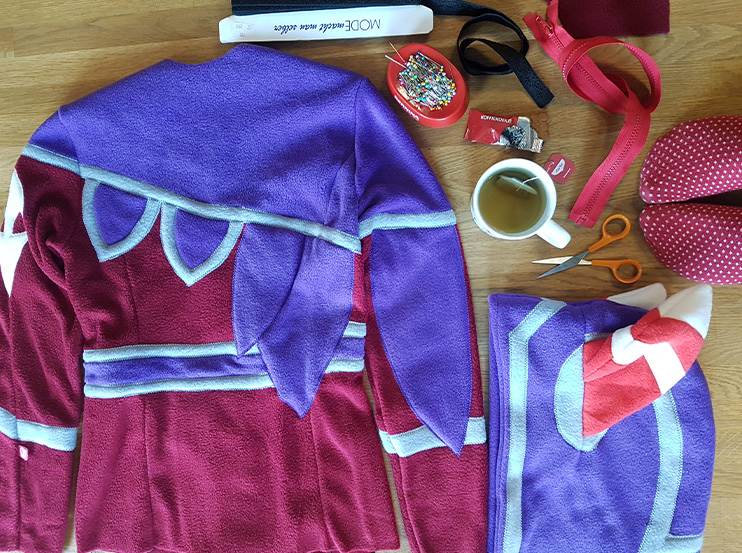 In my shop you can find a few onesie designs that I make to order. But I can also make a onesie that is based on your unique design or idea! I have loads of colours of fleece fabric so there are plenty of possibilities. In this slideshow you can see some examples of custom onesies that I made! Of course they are laying flat on the table, because I didn't wear them myself for the photos. So the photos may look a bit weird, but I'm sure you can get a good idea of my style of custom onesies by looking through these photos!
There are some really cute hoodies already in my shop, but of course I can make a custom design for you as well! I would love to hear your ideas for a custom hoodie. In this slideshow you can see some examples of custom hoodies that I made for customers before. Will you be the next one to commission me for an amazing handcrafted hoodie?
If you like dragons, then you'll probably find some favorites in my shop already. But what if you are looking for a similar dress style, but in a different colour or design? Well, then you can commission me for one! I love to turn your idea or design into a custom fleece cosplay dress. Here you can see some examples of custom cosplay dresses that I made before.
It all started with fleece hats… That is how Pretzl began! Since 2014 I have made SO many different fleece hats now! And also lots of custom designs! If you have a cool idea for a beanie or a scarf hood, then let me know and we can work together to make your dream hat come to life! Take a look at these photos to see some examples of awesome hats that I made for customers before. Will the next one be yours?